The following is my pathetic attempt at translating an internet posting made in Corean. I thought I'd share it with the rest of the readers of my website.
---
To the 23 team members of our national football team, I beg for your forgiveness...
It was on the night of the 25th... Although the crowd went wild shouting "let's go all the way to the finals!" we were ultimately faced with the tragedy of a bitter loss. There is nobody who can blame any one of you, however. I, as one of the millions who watched on, wept as you guys played your hearts out.
The tears didn't fall cuz I felt the loss... nor did it fall because I felt for the players... It was a reflection of none other than my ignorance of the game. Having watched all the matches as if I were watching a bunch of heroes who came out of nowhere fighting for us, I feel so ashamed to having called myself a fan.
How many do you think know that C G Song had only recently started competing in the national team... Do people know that he had been awarded the best new player in the Corean pro league last year?
I didn't even know that Y P Lee had been the immovable wing back of the national team since '99. It was I, the shallow football fan, who never fails to forget about all those who do not manage to score a goal during the national championship.
J S Park was the only person to have advanced to the Japanese football league without having played a single pro match at home, and did I know that? No... It was a tremendous experience looking over the 21 year old young man running around the field with such immense energy. It is simply a shame to see that this young talent has only now been recognized by his own country.
I didn't know that K H Seol had transfered to the renowned Belgium Anderlecht after making 6 goals. Neither did I know that he was the first Corean player to have played in the European Champions League. While he was playing as a starting offense in the Belgium #1 league, his mother was living back home selling fruit at a tiny booth. Certainly not what you'd call a lifestyle of the mother of a sports star. When people back then talked about what a great son you were trying so hard to provide your mom with a better life, I don't think I even bothered to pay attention.
N I Kim, a name fellow players had ignored accusing him of lack of skills. All those times you had to spend working at a club as a waiter, and as a manual labor worker at construction sites to make a living... I can't even begin to imagine what they were like... After days and nights of practice you have become a top defense player and now your strength and persistence gives us the confidence that the team relies upon.
If our players had played a weak game, I might have not given all these facts a second thought. I might have even considered it obvious that these players were living in such difficult conditions... That is truly a disguting thought I had in me...
When I saw D R Cha, I immediately assumed it would had been easy for him to make it to the national team given his father's legacy. When he missed a shot at the goal I yelled at him for not being half the man his father was. I couldn't care less that he was a 22 year old college student with nothing but time for improvement.
Y S Choi, S H Hwang, M B Hong, J C Choi, T Y Kim, M S Lee, W J Lee... We have always teamed up with the media to ridicule these elder players who had dedicated their entire lives to this sports called football. We have been cursing and yelling at these players who have been playing the game out of pure love.
There was a press release reporting that those who have not been selected as starting members of the nation team would be paid much less. T U Choi, Y S Choi, M S Lee... Who dare claim the right to discriminate these players? Do we even realize how much we had done to hurt them in the past years?
It doesn't matter which country you're playing at or which team you're playing for. I will always be on your side. If you could only forgive me for all the wrong I've done...
The game is not over. June 29th 2002, I will be standing right here once again shouting your names and cheering in tears.
It is you guys who have made us all come as one in June 2002. I, who have ignored all the sweats and tears you have put in, regret my shallowness and will once again shout out your names and our great nation's name "Dae Han Min Gook"
To each and every member of the Corean National Team. I love you all.
Corea did loose, but we have done so well. Germans had really gotten their acts together for the game. They were not like the team they were when they played against the US. Yet we still held strong and only allowed one goal. We have done our best and my philosphy is that when you do your best you will have no regrets.. Cheering on for our next match against whoever looses over the Brailz Vs. Turkey match!!!! YEAH!!!! Go Corea!!!!!!!
Ok, I've calmed down a bit, so I can try and do a decent recap of our trip to NYC. Here goes...
We left the burgh around 6:00 PM, just blazed our way through the highway onto 76, 81, then 78 zomming through to NY with just a little bit of unexpected delay along the way ;) . Got to Flushing around 1:00 AM, but the place we were going to cheer at was already jam-packed with over 1000 people. The cops were routing the crowd away to other locations since it was a fire hazard to let more people in the building. So the spill-over crowd started walking up and down the street to find a spot to settle, and we ended up at a Corean bar called H2O. I think there were around 200 people in there all pumped up and ready to chant our way through the game. Needless to say, the game itself was off the hook... nothing to nothing all the way through both over times and ending in our win over penalty kick... That one save by our awesome goalee just saved the entire friggin nation.... When that goalee blocked the shot I think the crowd forgot that we still had to score the next penalty to really win... Everybody in the room was already climaxing... I swear.. the rush... it was just simply unbelievable... Then when we made the next penalty shot the entire bar shook with everybody jumping up and down in sheer joy!!!!! WOOOOO-HOOO!!!!!! GO~~~~ Corea!!!! We got out the bar after a long while of insanity and the street was already jam-packed with people in their cars honking, shouting, with their bodies flinging out the window.... We just screamed "Deh~~~ Han Min Guk!!!" to every single car that we saw... (which explains why my voice is gone)... Great feeling to say the very least. I have never felt such a rush.... Coreans!!!!! Unite!!!!!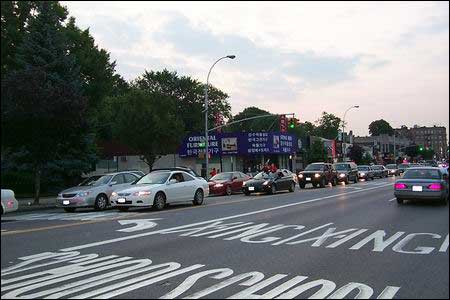 Streets of Flushing filled with Corean people in their cars going crazy right after the game. (this pix really doesn't do justice, though... it was really much more insane)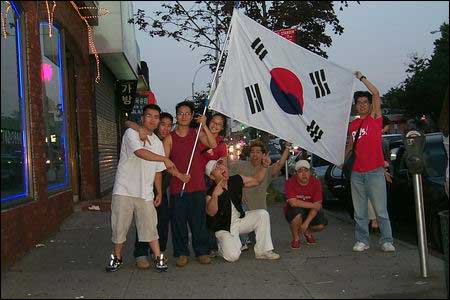 We posed in front of the bar that we were cheering at. (We borrowed that flag from a passerby for the pix. yeah, passerbys carry around big-ass flags, seriously. kee hee)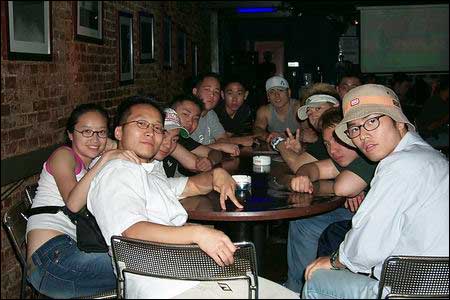 We went to Blue on Corean street the next night to just chill for a bit and celebrate.

Photo courtsey of Darren Chan

Crap... I just remembered (thanx Palm Pilot) that I have to attend a conference call with a client 9:30 AM Tuesday morning... F*@%.... F#$!... F!@#... F#@!.....!!!!!! So our team better just finish Germany by 9:00AM!! :P
DEH~~~~~ HAN MIN GOOK!! *CLAP* *CLAP* *CLAP* *CLAP* *CLAP*
AWWWWWWWWWWWWWWWWWWWWWWWWWWWWWWWWW YEAH!!!!!!!!!!!!!!!!!!!!!!!!!!!!!!!!!!!!!!!!!!!!!!!!!!!!!!!!!!!!!!!!!!!!!!!!!!!!!!!!!!!
Can... you... belive this.... We are in... the... semi... finals....
It's kinda funny reading my own blog.. I start off by saying "I'm not a big soccer fan..." and now I've been watching every single match that Korea has been playing, not to mention hopping on a journey to NYC to watch the big quarter-finals game. Man... right now I have so much Korean pride, I'm close to the point of being guilty of hubris... My head hurts fro screaming so much, my hands are numb from all the clapping, and my voice is virtually non-existent... but I'm still soooooo happy... Next game Tuesday morning 7:30 AM against Germany... WATCH IT!!!! I LOVE MY COUNTRY!!!!!!
Look at these photos... Aren't they amazing??? Wondering what those red things are? Why they're people in red shirts cheering on for the Corean worldcup team!!!!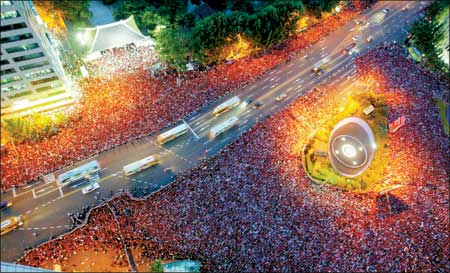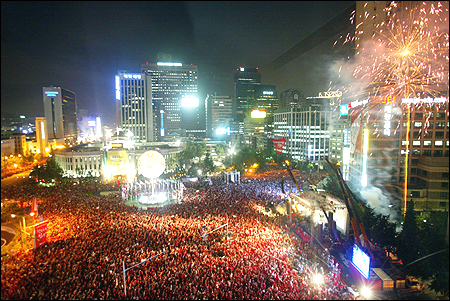 Sam, Danny, Danny's friend, Pam, and I are going up to Flushing, NY to watch the match between Spain and Corea. This is going to be insane... There's supposed to be about 1000 people gathered at Seoul Manor in some mall for the 2:30AM game... As long as we have a decent view of whatever type of screen they plan on viewing the game on, I'm game... perhaps I'll be lucky and find some hot Corean chick standing next to me cheering so I can hug her whenever (out of nationalistic joy, of course) we score.... nya ha ha ha! *GRIN*.... whuteva... -.-;;;
Ok... this is taking it a bit far... perhaps, it was expected... but it is a truly ridiculous outcome... How did he ruin Italian soccer??? He scored a goal against Italy, sorry about that... "He was a phenomenon only when he played against Italy" Oh... please... It had nothing to do with it being Italy; it was our key to the quarterfinals. And perhaps this is by far the most motivating match he has ever had, not to mention the inspiring crowd... He's playing with the entire nation on his back, for god's sake.. I wonder if that had occured to them at all... geez... I have no problem with some thinking the referee made a bad call by kicking Totti out, but all this nonsense is just... well.. nonsense.
Oh, well... Fellow Corean worldcup fans and other supporters, sport the official wallpaper of our match against Italy, available in 1024x768 and 800x600!!! rEpReSeNt!!!
As I reach the end of the month I thought it's time for me to start thinking about car maintenance (although I didn't actually get to drive my car for more than like 5 days combined)... So here's a good link that seems to take car cleaning a little too seriously... I also need to buy myself some goo gone and Sticker Shock to debadge it. Pei Chung recommends scotchgard for velour care. MK IV resource seems to recommend Meguiars for other internal finishing. Damn, cars are more high-maintenace than Prada-sporting rich Asian girls...
I'm sorry if I sound like a broken record, but....WE WON!!! WE WON!!! WE WON!!! WE WON!!! WE WON!!! WE WON!!! WE WON!!! WE WON!!! WE WON!!! WE WON!!! WE WON!!! WE WON!!! WE WON!!! WE WON!!! WE WON!!! WE WON!!! WE WON!!! WE WON!!! WE WON!!! WE WON!!! WE WON!!! WE WON!!! WE WON!!! WE WON!!! WE WON!!! WE WON!!! WE WON!!! WE WON!!! WE WON!!! WE WON!!! WE WON!!! WE WON!!! WE WON!!! WE WON!!! WE WON!!! WE WON!!! WE WON!!! WE WON!!! WE WON!!! WE WON!!! WE WON!!! WE WON!!! WE WON!!! WE WON!!! WE WON!!! WE WON!!! WE WON!!! WE WON!!! WE WON!!! WE WON!!! WE WON!!! WE WON!!! WE WON!!! WE WON!!! WE WON!!! WE WON!!!

In case you've been hiding inside a cave or something, Korea just BEAT Italy. We beat Italy... What does that mean? We're in the round of 8 or the quarterfinals, if you will. AHHHHHHH!!!!! We go head to head against Spain...

This is simply... amazing... amazing... amazing... I was at Sam's place again at 7:30AM watching the game... It was so painful until the last minute... There was a bad yellow card call that lead to a red card on Totti. I saw the replay and I think it was a bad call. But what happened happened, and to say that the match would have been different if that hadn't happened is in nobody's hand to say. Well, I don't think we even switched jerseys with Italy... Italy, I guess, is pretty bitter.
As I break the engine and the transmission in on my car... As I reach closer and closer to my 1000 miles break-in mark... Itching to take my Bora to its maximum potential... Take it down Schenley Park... ahh.... that'd be sweeeet.. I think I'm gonna visit the Pittsburgh Vintage Racing this year to see what's up. Anybody wanna join me? :)
This view is pretty darn cool.... Seems like way too much work, though... But I guess it beats trying to find an inexpensive house with that kinda view? :)
It turns out that Shadow Lounge is, surprise!, just a lounge.... not really a club... So we tried to check out what's going on at the Millenium and Area 51, but to our surprise they had all shut their doors down... dang... what's going on???? So we thought we'd just head down to the strip, walk around and just hop into the joint that seems to be the most happening. Sam, Pam, Danny and I first picked up his friend visiting from Michigan at the Greyhound bus station and zipped through towards the Strip district.

After a few minutes of crusing around the strip, we ended up going to Tequila Willie's. It's actually not just Tequila Willie's, but once we paid the cover we had access to Tequila Willie's, Donzi's and the board walk which had live music and cocktail stands. We were originally going to go to the Sanctuary, but decided we should check Tequilla Willie's out. The DJs there were playing the Funky Mix versions of most of the Top 40 Hip Hop stuff. At least they made an effort to try and stand out. They def. need to tone down the treble and the gain a lil bit... way too loud... otherwise I'm gonna have to start wearing ear plugs... -.-;; The crowd was a mix between people in their 20s and some older people, but all in all it wasn't bad. I think I liked the party atmosphere there better than the Matrix. As of now I've given up all hopes of being able to bop my head to KRS One, Biggie, Masta Ace, or Nas at a club in Pittsburgh... We'll probably hit Laga or Rock jungle next Saturday. :)
One word.... VICTORY! that's all I gotta say. Lucky for the U.S., they get to piggy back. :P ha ha!
Ok.. 'nuf modesty... WE WON!!! WE WON!!! WE WON!!! WE WON!!! WE WON!!! WE WON!!! WE WON!!! WE WON!!! WE WON!!! WE WON!!! WE WON!!! WE WON!!! WE WON!!! WE WON!!! WE WON!!! WE WON!!! WE WON!!! WE WON!!! WE WON!!! WE WON!!! WE WON!!! WE WON!!! WE WON!!! WE WON!!! WE WON!!! WE WON!!! WE WON!!! WE WON!!! WE WON!!! WE WON!!! WE WON!!! WE WON!!! WE WON!!! WE WON!!! WE WON!!! WE WON!!! WE WON!!! WE WON!!! WE WON!!! WE WON!!! WE WON!!! WE WON!!! WE WON!!! WE WON!!! WE WON!!! WE WON!!! WE WON!!! WE WON!!! WE WON!!! WE WON!!! WE WON!!! WE WON!!! WE WON!!! WE WON!!! WE WON!!! WE WON!!!
If you have no clue what I'm talking about... I woke up at 6AM (probably the first time since 1995 when I was a freshmen in college) and went over to Sam's place again to watch Korea beat Portugal's BUTT in the last round of the Group D preliminaries of the World Cup soccer games!! Wooooo-hoo!! We're in the round of 16, babyyyyeeeee!!
Well... after the dust clears... Our next match up is... uhm... Italy... phew~ Gonna do our BEST till the end!!!!
Alright... Maybe I shouldn't have bought the Jetta... This is the next generation vehicle from volkswagen... *SIGH*... I should have waited a lil while longer? :)
Sam asked me while we were watching the world cup soccer game this morning why the audience had written Corea as opposed to Korea on the placards. This is actually an issue that was and still is a big topic among Coreans. I first came across this issue when I was a freshmen in college as an avid reader of soc.culture.korean. I don't know about these days, but back then there were many instances where the issue had been brought up. To make long story short, Corea was the way it was spelled prior to the Japanese annexation in the early 1900s. Japan had pushed to get the spelling of Corea to become Korea in an effort to at least put their own country's name before ours in an alphabetical lineup of nations... Then it had been officially registered as Korea to the rest of the world... Kinda silly? Politics, man... It's all about the politics... The world is a pretty damn silly place.
Bought a jar of salsa (small one), 2 bottles of coke and went to Sam's place around 2:20 AM to watch the world cup!! Damn... the game was sooooo friggin close... Of course, as I had said earlier, I'm not a huge soccer fan so I don't know who's who and all... I just wanted to see the game. I actually brought along a small Korean flag so I can wave it from side to side~~ kee hee... Sam and I were going crazy when we put the first goal in... we're like.. "Wait... was that a goal??" *2 second pause* .... "WHOOOOOOOAAAAAAAAAA!!!!!!!!!!" I'm surprised that the rest of his housemates didn't wake up... kee hee.. good game! good game! Way more excitement than the lakers vs. nets, I must say.... sux that it ended in a tie, but oh well... we'll win the next match against Portugal!!! Holy crap, the sun is coming up... better hit the bed.
Checked out the Matrix, a new 21 & over club opened in pittsburgh a lil over a month ago. It's basically the first club in Pittsburgh to have multiple rooms. Whoop-dee-doo. kee hee.. I gave my state ID to Sang, and we let Sang and Pam go first cuz we thought having him go in with a girl would probably make it easier. Well, so then the rest of us, Sam, Danny and I, got to the door, and the friggin dress code requires you to have a shirt collar... WTF!?@!# So I had to go get a friggin shirt on... Other than that, the night went pretty smoothly with an intermittent brush with the security asking me to put my collar shirt back on... sheesh..
All in all, the night was okay.. The room dubbed "Liquid" which played mostly trance had intersting decor, but you guys know I have a hard time dancing to that type o' music... The room dubbed "Velvet" played Latin beats... uhmm... for moi? no... There was also a room that supposedly played New York style house... Out of all the styles of house music... WHY NY style House? Dude, NYC may have good house clubs, but NY House isn't exactly the best shit out there... Play Euro House or Chicago House... At least that would be fun... But we saw this freaky couple slow dancing to the NY House beat in the middle of the dance floor, and I'm convnced she didn't have panties on... her one-piece dress started rolling up as they went around and we could see her friggin butt cheaks... Thank god they were cuddling close, otherwise who knows what else we would have been able to get a peek at... -.-;;; It was mad funny whe the security came up to her and told her to put her dress down.. pu heh heh heh. Their so-called underground / Top 40 room, "Goddess" was really... uhm... "diverse".... -.--;;;... Nothing underground there at all, mind you... I guess it may have been too much to expect some good hip hop at a mainstream club.
I shall check out Shadow Lounge next.
Ok... I'm kinda depressed.. due to transmission-related issues my Bora had to be towed back to the dealership. When that gets fixed I'll finally be able to really ride her all night long!!!! :P Ok, what's a few more days... In the mean time I'm stuck with my key to the car, a user's manual, and Chevrolet Prizm (free rental car)... grrrrr
I came into work today... saw a steady red light on my phone: awaiting voice mail... I have this weird fuzzy feeling about it.. I check it... guess what? It's that sales dude.... with THE NEWS!!! My ride has just arrived... Awwwwwwwww yeeeeeeeah!!!! Reiterated the terms with them about no drilling holes, no dealer stickers, and told them I'd fax them the details on the monsoon defect.. Gonna go pick it up tomorrow, babyeeeeeee!!!!
Life is sooooo beautiful!!!!!
Though it was sad to watch the Kings loose their match to the Lakers, Corea has won their match against Poland!!!! I'm not a huge soccer fan, but knowing that 90% of my friends are glued to the TV screen in Seoul watching the games, I should at least keep up with the match results, right? :) Aside from that, I really wish I could have seen the Kings go to the finals.... I wanted to see some more of Bibby... I had seen 'nuf of Shaq and Kobe... Oh well...
Now... where's my car????
Grrr... I just called the dealership to check the status of my new ride, and it hasn't come yet... The sales guy thinks it should be in by mid next week. He said he'll check the whereabouts of the trailer that has the car and get back to me on Monday, so hopefully I'll have the car by next week some time... Dammit, I want it now!!!! I also told him not to put any stupid dealer badges or stickers and double checked to make sure they don't drill my bumpers or anything... phew~~ kee hee... I should also make sure all the options and such are correctly installed once the car arrives at their lot... rollin' rollin' rollin'~~

Update: I have just come across this post which tells me I should make sure the dealer fixes the Monsoon Sound System, too. I'm gonna have to read this thread carefully to find out how exactly to articulate the problem to them as well... Or may be I can follow this thread and do it on my own..
Just to update those of you who're out of town and out of touch, this past week in Pittsburgh has been pretty crazy. Although we've yet to get the complete inside story, a CMU professor has been charged with murder. Then yesterday there was this friggin storm that took out most of shadyside's electricity. It was basically pitch black last night; Unimart in shady side without electricity, and the rest of the bars on that side without electricty as well. The storm had also wreaked havoc in kennywood. Such tragedy...
Want some more? Dig in to the archive for past entries.