What the hell are these people thinking?? Ok, sure... it's a limited release, not to mention the first release, and it's a brand new invention, etc... but the price... I suppose I can't really tell people how they should be spending their money... but I just don't think the Segway is worth as much as the Porsche 911 Carrera Turbo ... Oh, speaking of Porsche... Check out this amazing "3D" paper model of the Carrera GT concept car.
Alright call me a friggin geek... So I'm at work until 4 in the morning finishing up a chunk of my project so that I can concentrate on getting all my readings done over the weekend at home... and I had about 40 minutes to spare until my next bus ride back home... guess what I did... I wrote a lil script that goes through the andrew users and looks for users based on CrushLink's hints... I did spend an hour and a half tuning it to support bunch of flags when I got back home... (which reminds me that I should go to sleep!!) At any rate, the hints I got so far are:
The user name is 6 characters long.
The user name has the domain andrew.cmu.edu
The first name has 6 characters.
The last name has 5 characters.
The first name starts with a character between K and O.
One letter in the first name is also in the last name
What I did was too geeky to put up here, so I moved the details to my Geeky side... Peep this entry.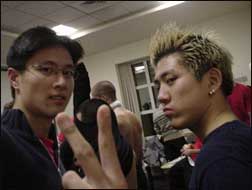 Here's a pix of Jimmy and I in the dressing room trying to show off our attitudes during Lunar Gala 2002. Heh heh.. Funny pix, had to post it up. :)
I've been catching up on stuff pretty well; project at work is well underway, our first project for eXtreme Programming is coming to its final 2 weeks of intense sessions, and I'm all caught to my MacroEcon class. I've even finished reading half of one of the Sci-Fi novels we're assigned. And yes I did get started on the other 5 text books. But most importantly, I had a pretty good juggling session last night so I think I'm onto sum sum sumthin' !!! If all goes well, I should be all caught up if not pretty close by next Monday!!! phew~~~ guys, if you can avoid living my life style... avoid it at all cost!!! ;)
I got this e-mail today from Crush Link saying that somebody has a crush on me. Ok... great... I go to their website all curious (Hey, who wouldn't be?)... I found out that in order to find out who my crush is I have to enter a list of guesses as to whom I think sent me the crush... or enter the names of the people I have a crush on... okee... So now this further confuses me... That means the crush I got e-mailed may simply be somebody who thinks I have a crush on them... Well, that's no fun... This is pretty freakishly interesting... I guess their point is that nobody will ever get rejected by their secret crush, so there's nothing to loose... But, then what? Just two people who think each other has a crush on one another being linked? What's the chance of me being able to find the person who REALLY has a crush on me??? What if I don't even know that person's name or e-mail address... what if I know the person's e-mail address, but they registered using ANOTHER e-mail address??? I'll never be able to guess... I got the crush sent to my school account, so I guess that means this person somehow knows my school e-mail... Man, I hate guessing games... Wait, why am I getting all curious, it could just be somebody who put me on their guess list... I'm gonna like put all these guys' e-mail addresses in my guess list making them all curious... pu heh heh... wait... maybe that's exactly how I got this crush e-mail.... -.-; bleh...
Went out with JunSuk, SungHi, Steph, Somi and YoonMi last night and took'em to China Palace for my all-time favorite Chinese dish, the "Peking duck 3 way". I guess they've never had it before in quite the same fashion. I've always preached that you should eat Peking duck cooked in 3 different ways, but apparently not that many restaurants do it. China palace was the only one that I found around here that actually serves it the way it should be served. It was really good to see that everybody really liked the dish. They were talking all night about how good it was. :) Between the 6 of us we had 2 whole ducks, man... It was awesome. Besides the food, I guess the next most entertaining event was watching Somi and SungHi argue throughout the night.... heh heh... They make me crack up. Hang in there Somi... Go easy on the Chivas, too. keh heh.
Alright, you luvy dovies... Here's a lil romantic tip I leared from Dr. Kraniou as he went off at a tangent discussing how the economy could be effected by space projects... On Valentine's night... face South.. The easiest way to locate South would be to use Map Quest by putting in your home address. Now once you've located South, look up and you will be able to see the beautiful, *PUKE*, Orion. Orion is made up mainly of one star on each of its four corners, and three in the middle. The bright star on the top left is called Betelgeuse and the bright one on the bottom right is called Rigel. Once you've located Orion you can find Sirius, Orion's hunting dog, at its lower left, Jupiter further up and to the left, and Saturn further up and to its right. Saturn is actually part of the Constellation of Taurus. Now you can lament about the sad love story of Orion and Artemis all night long.... *PUKE*... :P heh heh... Here is a nice sky map of the southern sky.
Dude, I need to say something contraversial.... I want some comments from you guys reading this!!! :P Alright... how about this one.. I think it's completely wack that guys always propose to girls... why can't the girls just propose to guys? Who made that stupid rule? That's kinda out of the blue, bu oh well.... :)
Happy Lunar New Year!!!! Unfortunately, things have been going a lil crazy around here in Pittsburgh this past 24 hours...
Grrr... Had a bad stomache day... couldn't go to work.. Time to get reorganized. Got my reading schedule all sorted out, cleaned up my room, did all my dishes, but still have laundry to do... Phew~ The whole Lunar Gala craze was indeed a craze... But, I'll be on back on track by tomorrow evening, working out again and everything. back, back, back, back to work~~~
With that aside, did I mention this insane MBA class that I'm taking right now called "Macro projects and International Regime" ??? We have like 6 main textbooks, and he wants us to read 3 hard sci-fi novels... Why sci-fi novels, you may ask? Cuz we're going to have to write like a 50 page paper on the feasibility study of mining asteroids... yeah, asteroids.. that ain't a typo... whoa.... The whole subject is very interesting... I mean, Dr. Kraniou is the only reason I think I'm still in the MBA program... But this course is probably the hardest MBA class I have taken so far... wish me luck, yo... :S
Damn... did you see Kelly Clark hit the pipes???? Wow... I so want to go try the pipes out... dammit... If I weren't hung over from last night I could have gone snowboarding today!!!! grr... but, I must say that I needed to vent last night with some good ol' Tequilla shots. ;) Here are some video clips of her showing off some moves on the pipes at previous Xgames... she is GOOD!! Check out her McTwists, man... it is crazy!! How come there are no Korean representation in the snowboarding category???
Note to self... When you think the other person may be wrong, try the following intro. "I can see where you're coming from. What do you think would happen if you did this instead?" That will open the floor up to discussion instead of triggering the other person to go on defending one's self. I find that many of the even senior people don't understand this simple logic... and it's quite frustrating to see how they start finger pointing.... grrr... the point is to work together to achieve a mutual goal, not to judge other people's ideas or skills... -.-;
Saw Jimmy today, he went to school with me here at CMU. Apparently he's back for grad school in the MBA program here at CMU and hosting this year's Lunar Gala. He was the one who started it all. Funny how people meet up again. :) This year's production is definitely heating up! It's this coming Saturday guys! This year our crew's part is bigger than ever, so you don't wanna miss it! I'm gonna be performing live with our crew!!! So go grab that ticket now in the UC starting again on Wednesday morning!!!
Funny thing about some of the so-called leaders out there is that they seem to think that people care for the reasons why they mess up. When enquired about the incident, they immediately retaliate with one of those "It's not like that. Lemme explain what had happened. It's not my fault." As if people constantly make sure that they understand what state of mind, what exact situation these leaders were in when they messed up. Quick reality check folks. Those who are effected by the mess up don't care about anything other than the fact that they were effected, let alone that you are not the one to blame. If you're a leader, then be prepared to either make sure things are checked, double checked and triple checked to be sure, or be prepared to apologize to anybody under any circumstances no matter who's at fault. That's what leaders do. Keep that in mind, kid.
Talked with Karl and Paul a couple of days ago... Paul's my friend who staretd his military duties few months back ( I mentioned him on one of the entries), Karl is his brother who's been in the military for little more than 2 years now. He's about to fulfil his duties and become a civillian in a couple of months. Their grandfather had passed away and so they both got a few days off from their military duties. It seems like Paul is doing pretty well. I hear that things are dramatically different these days. I suppose that's a good thing for Paul. Well, my condolence to their grandfather's passing away, but it was good that I got to hear some good ol' voices on the phone.
In the midst of all the craze trying to get caught up with everything, I'm still contemplating over which car I should get... Is it gonna be the '02 Jetta 1.8T MT or is it gonna be the '96 Honda Prelude MT .... GRRRRR... I haven't really received any real feedback on this matter, people tend to respond with totally random other cars they would buy... c'mon guys... you're not helping...
Gosh.. this week must have been the most unprductive week I've had this year... Last minute book ordering ended up being quite costly given that all of my MBA text books won't arrive until the 5th of Feb... that means I have like 400 pages to read in 4 days and that include the weekend of the fahion show...shit... Just in geneal this stupid cold must have really gotten to me... the whole week's been lots of thinking, but nothing tangible has come out of it... At least I've started checking things off of my to-do list starting today... One week of slacking is ENUF! Back to time mgmt 101... I swear I will NOT go straight out to the cold after working out... cold sux...
Want some more? Dig in to the archive for past entries.